Ethos and Values
Coombe Boys' School, is a community of learners that embraces innovation and inclusivity in teaching, leading to academic excellence and a world of opportunity for all.
We strive to foster a culture of creativity and critical thinking that empowers our students to become confident lifelong learners and responsible global citizens. Our commitment to providing a diverse and inclusive learning environment ensures that every student is heard, recognised as an individual and feels valued and respected.
Our focus on academic excellence prepares them for success in an ever changing world. Our goal is to inspire our students to think beyond the classroom and to explore the endless possibilities that lie ahead, so that they may confidently shape their own futures and make a positive impact on the world.

Coombe prepares each student for their World of Opportunity by:
Delivering excellence through innovative teaching that is inspirational and brings an ambitious, broad and inclusive curriculum to life. It engages every learner in their Coombe journey offering a transformational and challenging experience.
Driving ambition by fostering a culture of creativity that develops all members of our community to be confident learners who are happy, resilient, embrace challenge and are excited by their own potential to shape the future.
Developing integrity through a diverse and equitable community where every person is heard, recognised as an individual and feels valued and respected. Our shared purpose promotes exemplary behaviour, outstanding and supportive relationships between all above all, ensures kindness permeates every day life.
Excellence

Ambition

Integrity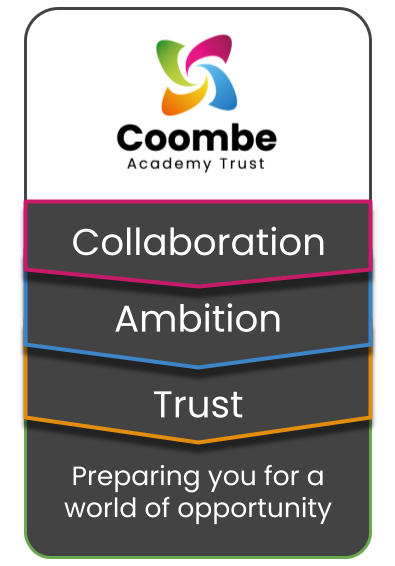 'Preparing you for a world of opportunity'
Coombe Academy Trust is committed to ensuring outstanding leadership at all levels underpinned by the values of:
- Collaboration
- Ambition
- Trust
Bespoke professional development ensures lifelong learning for all staff in an environment where success at all levels is recognised and celebrated. In turn this provides a high standard of inclusive education for our children and young people, one in which their lives are enriched with meaningful opportunities and achieves the best possible wellbeing and academic outcomes. In short, this ensures children and young people leave Coombe Academy Trust well prepared for their next stage in life and education, and prepares them for a world of opportunity.
Find out more about the Ethos, Values and Curriculum Principles of the Coombe Academy Trust